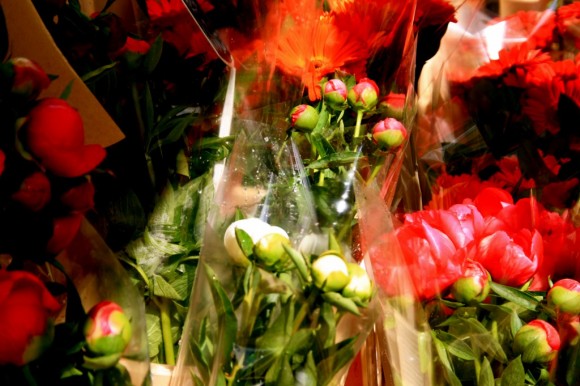 Sun drenched Sunday mornings surrounded by bunches of thriving foliage, bags of bulbs and flowers in every imaginable shade, proudly sold by every imaginable character, in a street punctuated by Victorian shop fronts and the faintest hint of coffee – that's what an East London weekend should be all about.
Following a period of decline and the threat of demolition in the 1970's, Columbia Road Flower Market re-bloomed in the 80's in its current, quirkily adorable state; making it one of London's most unique shopping experiences.
Here you can find everything from 10-foot banana trees to blooming orange orchids, and by the end of the day these floral finds come with the barrow boys chant "everythin' a fiver". The flower sellers themselves grow most of the plants while more exotic species are imported from across the globe. This really is the go to floral haunt for serious horticulturalists and those after something stunning for the mantelpiece – I'll admit, I probably belong in the latter group.
There's a busker on every corner with harmonica or guitar in hand and a voice as hypnotically gravelly as the leaf-covered road they stand on. But when the weather turns sour or you need to momentarily free your hands from roses Columbia Road's pubs and cafes seem even more charming. Look out forThe Birdcage, it's an eye opening East London institution.
Most of the 60 independent shops lining the street are closed during the week but come into their own on Sundays. They sell everything from cupcakes to garden supplies, local artist's prints to vintage clothing. It's absolutely worth visiting Elphick's. Run by textile designer Sharon Elphick, the space operates as a studio during the week and as a gallery/shop over the weekends, selling illustrations, digital prints, vintage ceramics, greeting cards and commissioned designs by Sharon and the creatives she admires. Stop by Given and Cerise, an emporium of perfectly delicate, eye-catching jewellery from some of the UK's most original designers including Anna Lovell and Angel Jackson. Also worth a visit is Laird of Glencairn, which will ensure your head is well dressed andAngela Flanders, a perfumer that's difficult not to love.
It's all too easy to loose and entire day and walk away with an unexpected knack for floral. A Sunday recommendation if ever there was one.
What: Columbia Road Flower Market
Where: Columbia Road
Transport: Shoreditch High Street Rail
When:  8am until 3ish every Sunday
More: http://www.columbiaroad.info/