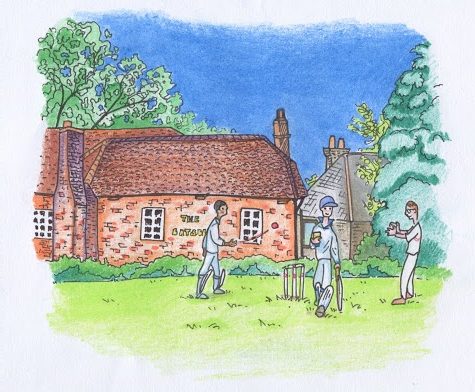 With our England magazine now sold out we thought it was only right to share one of its stories - a celebration of the country's best pubs. To avoid missing any other back issues, pay a visit to our store by clicking here.
Words by Tom Goble & Illustrations by Emily Fernando
With their ghostly inhabitants, unexpected pasts, famous patrons and general eccentricity, English pubs are decidedly brilliant.
The English pub is a marvellous thing, in fact I'm writing this introduction from one (The White Hart in Sevenoaks since you ask). Come rain, shine or old-fashioned drizzle, a good English pub will restore you. It'll warm your cockles, quench your thirst and satisfy your need for quirkiness.
Maybe it's because I'm an Englishman, maybe it's because I like a drink, maybe it's because I speak the unquestionable truth, but to me it seems the English do pubs like no other nation. Very few countries have drinking establishments so tied in with their national identity; meaning any number of fascinating pubs could have found their way into this article. On that note, apologies if your particular favourite has been omitted. I've attempted to offer a snapshot of the great and the good of English drinking dens. For every interesting story I describe, there are thousands of others from pubs and inns up and down the length and breadth of the country that I might have chosen. The Philharmonic in Liverpool that inspired a young John Lennon, The Eagle and Child in Oxford that counted J. R. R. Tolkien and C. S. Lewis among its clientele and The Haunch of Venison in Salisbury, which was used by Churchill and Eisenhower during the D-Day landings, are just some of the many I could have picked.
So if you take anything from these ramblings, I'd like it not to be that these are England's best eight pubs, but rather that England is blessed with some magnificent places to have a drink; and so I'd encourage you to get out and explore them all (sensible drinking is advised, but by no means compulsory).
Fitzpatrick's Temperance Bar & Emporium
I'll tell you the problem with pubs – they're not a lot of good if you don't like drinking. Sure they'll serve you an orange juice and packet of crisps, but any publican worth his salt (and vinegar) will be thinking "Uh-oh! We've got another weirdo teetotaller Mildred (his frumpy fictional wife)". But wait, there is a solution.
Mr. Fitzpatrick's Bar is the UK's last and only remaining original temperance bar. Serving a heady selection of herbal drinks, cordials and mocktails to the alcohol-intolerant inhabitants of Rawtenstall in Lancashire, Mr. Fitzpatrick's has proved quite a draw, with visitors coming from across the globe to sample this quaint snapshot of Victorian Britain.
The temperance movement (one foot in front of the other please sir) began in 1835 in Preston amid concerns about the Industrial Revolution's equally industrial levels of alcoholism. And although prohibition was never formalised in the UK in the same way it was by our supposedly sober cousins in 1920's America, a wave of non-alcoholic bars began popping up in most towns to guard against the dangers of heavy drinking.
Although their reach was nationwide, temperance bars found their strongest foothold in the Northern industrial towns, some of the most famous of which carried the Fitzpatrick family name. Originally a family of herbalist Dubliners, the Fitzpatricks established themselves as one of England's foremost purveyors of Dandelion and Burdock, Blood Tonic and Cream Soda and their empire grew to include more than 40 bars.
The final remaining bar retains many of its original fixtures and fittings, including the ceramic tap barrels and shelves lined with jars of medicinal herbs, and might well be credited with a bit of a revival in 'dry' drinking venues. Alcohol-free bars have been turning up with increasing popularly, particularly in London with Redemption and Sobar serving only soft drinks and proving very popular with the after-work set and health- conscious alike.
So popular has the dry drinking culture become in the UK that the proprietors of the Rawtenstall temperance bar have opened a new sister establishment in nearby Chorley, Lancashire. The simply named Temperance Bar serves many of the same cordials and mocktails and its owners hope that temperance bars might once again be a regular feature on most English high streets. Mr. Fitzpatrick would be proud.
Fitzpatrick's Temperance Bar Bank St, Rawtenstall, Rossendale, BB4 6QS
Jamaica Inn
"I took the missus to the Inn" 'Jamaica?' "No, she went of her own accord!"
Theoldonesarethebest,aren'tthey? And the Jamaica Inn, sitting between Launceston and Bodmin in Cornwall, is pretty old indeed. It's also got a fair bit of history attached to it.
Built in the mid 18th Century, Jamaica Inn was originally a coaching inn, the equivalent of Little Chef/ Premier Inn combo on the side of a motorway today. Very much like our motorway services,theJamaicaInn, in bygone days, occasionally played host to some less than desirable clientele, and the inn was often used by smugglers to hide the contraband they'd brought ashore - at this time, half of the brandy and a quarter of the tea arriving into the UK was being smuggled in through the Devon and Cornwall coastline. In fact, it is thought that the inn got its name due to the amount of smuggled rum that passed through it.
The smuggling heritage and history of Jamaica Inn can be relived in the attached Museum of Smuggling, which is open daily and costs around £4 for adults. It is found in what was originally The Stable Bar, a space that (along with The Smuggler's Bar and an upstairs bedroom) has been of particular interest to curious (or should that be foolhardy) ghost hunters.
It was this atmosphere, thick with history and dubious intrigue, that must have so struck Daphne Du Maurier when she stayed at the inn on a "cold and eerie" night in 1930. Du Maurier's fictionalised version of Jamaica Inn remains one of her best-selling and most-loved novels and was made into a film by Alfred Hitchcock on the eve of the Second World War. The novel Jamaica Inn continues to inspire and the recently broadcast BBC retelling of the tale ought to keep the bar of Jamaica Inn busy with Du Maurier enthusiasts and introduce Cornwall's murky past to new generations of little smugglers.
Jamaica Inn Bolventor, Launceston, Cornwall PL15 7TS
The Spaniards Inn
This is not a trendy gastro-tapas- drinking den, as the name might suggest, but rather one of London's most historic literary pubs. Found on the edge of Hampstead, North London, The Spaniards Inn was originally built as a tollgate inn on the Finchley boundary marking the entrance to the Bishop of London's estate (the 1755 boundary stone is still in the front garden).
Legend insists that infamous highwayman Dick Turpin was once a regular, and that his father was once landlord, and although neither of these facts can be substantiated, it was known that highwaymen used the inn to watch for approaching traffic.
But highwaymen were not the only inventive professionals drawn to The Spaniards Inn; many of our great literary figures made it their watering hole too. The inn is mentioned by Dickens in The Pickwick Papers and by Bram Stoker in Dracula, and Romantic poets John Keats and Lord Byron were also said to be regulars.
The inn retains much of its historic décor and is often said to have one of the most impressive beer gardens in London – it has been landscaped so that from one artificial mound there is a view of Windsor Castle. It is reported that Keats wrote his Ode to a Nightingale from this sunny hideaway.
So if you too are longing "for a draught of vintage" in a pub garden, then you may like to pop down to The Spaniards Inn. But make sure you bring your notebook, you might be struck by inspiration.
The Spaniards Inn Spaniards Rd, Hampstead, London , NW3 7JJ
Tan Hill Inn
What's that?! Is it a bird? Is it a plane? No it's the Tan Hill Inn, the highest pub in the UK. At a whopping 1732 feet above sea level it's a good 500 feet taller than the Empire State Building and North Yorkshire Dales enthusiasts would insist it has a better view too.
The current inn dates from the 17th Century and for much of its life was a valued part of the area's coal mining community, serving the inhabitants of the many nearby mining cottages who in turn served the Tan Hill mines.
With the world still reeling from the Wall Street Crash, it was dealt another blow in 1929 when the last of the Tan Hill mines closed its doors (do mines have doors?) for good, leading to a period of belt tightening for the Tan Hill Inn. The fact that it survived the loss of its sooty patrons at all was in part thanks to local farmers who continued to tread their muddy boot prints into the shag, and also the development of the motorcar.
1951 was a big year for the UK. The Archers was first broadcast, Dennis the Menace appeared in The Beano for the first time, Zebra Crossings were introduced to UK roads, and to top it all the first ever Tan Hill Sheep Show was held. The Sheep Show, now a regular feature on the Tan Hill social events calendar, has been held almost every year since its inception.
Due to the somewhat isolated hilltop setting, Tan Hill Inn might also hold the joint honour of being the most inaccessible pub during winter – one particularly snow-enforced lock-in lasted four days with 60 punters. And in another of the peculiar quirks that makes Britain's pubs the world's best, after a mobile phone advert was filmed in the pub, it was forced to invoke a strict no-phone policy. A jar stands behind the bar, full of Nokia 3310s (et al.) as the price of failing to pay the 50p just-turn-the-damn-thing-off fine results in the loss of your phone. Now that's the sort of rule I like!
If you prefer your inn with a double portion of quirkiness at altitude then do check out the Tan Hill Inn. It's a warm and cosy free house with a good atmosphere and a non-ringtone- interrupted ambience – and it's bloody high up.
Tan Hill Inn Richmond, Swaledale, North Yorkshire DL11 6ED
The Bat & Ball
Erroneously known as 'the cradle of English cricket', The Bat & Ball in the sleepy Hampshire village of Hambledon certainly has a place within the history books of the most quintessentially English of sports.
Due to its close association with the Hambledon Cricket Club, many have assumed (incorrectly) that infant cricket let go of his mother's apron strings and took his first steps on Broadhalfpenny Down (opposite The Bat & Ball). In truth however, the evocative thwack of leather on willow had been heard across the South Downs for hundreds of years previous. Nevertheless, The Bat & Ball and the Hambledon Cricket Club (who used The Bat & Ball as clubhouse and changing room) continue to remain inextricably linked with cricketing folklore; the modern rules of the game were drawn up from the Hambledon Club's original.
The Bat & Ball itself, as you might expect, is a bit of a Mecca for cricketing enthusiasts, and its walls are bedecked (as all good cricketing Meccas are) with bats and balls and other cricketing flotsam and jetsam. The bar has a white line painted through the middle of it, which apocryphally is said to mark the position of the original Hambledon Club boundary rope.
Cricket is still played opposite The Bat & Ball and I might be so bold as to venture that there's no finer way to spend a sunny afternoon than sipping cider and watching an innings or two. One cautionary word of warning however, the car park of The Bat & Ball is certainly in range of any decent batsman and a dented roof or smashed windscreen is only a hefty slog away.
Here's another titbit for you, Britain's third favourite ale HSB was originally made just down the road - the 'H' standing for nearby hamlet Horndean. So if you like to know the provenance of your pint at The Bat & Ball you're only a cricket ball throw from the origin of what locals would call a pretty 'Special Bitter' indeed.
Go on then, press a crease into your trousers, pop on your whites and get down to Hambledon on a sunny afternoon. I promise it'll be exquisitely lazy, and you'll love every minute. Howzat!
The Bat & Ball Hyden Farm Lane, Waterlooville, Hampshire, PO8 0UB
The Nutshell
How many people can you fit in England's smallest pub? Answer: 102 and a dog!
The pride and PR opportunities that accompany being England's oldest/ biggest/tallest/dustiest/coldest pub are significant, and the crown belonging to England's smallest pub is a very keenly contested one. Many have thrown their teeny hat into the tiny ring, but only one has emerged victorious. The compact but perfectly formed Nutshell in Bury St Edmunds is generally acknowledged (certainly by The Guinness Book of Records) as the smallest, seemingly by virtue of the fact that it has no outside drinking space/beer garden, unlike many of its puny rivals.
Measuring only 15ft by 7ft the record of 102 people and a dog seems a little far-fetched, but for a local radio feature in 1984 The Nutshell achieved just that. Pretty impressive for pub with just about enough room for 10 patrons ordinarily. In fact, The Nutshell is so small, that it hit the headlines in 2013 for banning one of its taller (he was 6'7 if you were wondering) patrons during peak times as there simply wasn't room to accommodate him.
Assuming you're small enough to be allowed inside, aside from getting up close and personal with the locals, you'll be able to come face to face (literally) with The Nutshell's famously interesting décor. Having started life as a museum of art and curiosities in the late 19th Century, the current ownership have kept up the tradition and the walls and ceiling display a range of particularly weird and wonderful objets d'art. In keeping with the diminutive theme, The Nutshell boasts the smallest copy of The Times and the smallest dartboard. And when a desiccated cat was found by builders behind the brickwork of the fireplace it was decided it was exactly what the pub needed and they stuck it on the wall.
Whether you simply like invading the space of boozy men, or just fancy a little (normal sized) drink in a tiny (tiny) pub then check out The Nutshell in Bury St Edmunds. If you can find it.
The Nutshell, The Traverse, Town Centre, Bury St Edmunds IP33 1BJ
Warren House Inn
So you've been on a brisk winter's walk across the wilds of Dartmoor. The biting Devonshire wind has chilled you to the core and, fearing hypothermia, you're on the verge of calling Mountain (Moor) Rescue when you spot a white dot of hope on the horizon; an inn, with its plume of smoke billowing from a chimney hinting at the cosiness within.
With its address of No. 1, Middle of Nowhere, Warren House Inn has offered respite to weary travellers since the mid 19th Century. Like the Tan Hill Inn, this particular establishment originally served the thriving but now non-existent tin mining industry. It's also quite isolated come winter. During heavy snows in 1963 Warren House was cut off for 12 weeks, meaning provisions had to be brought in by helicopter.
Now over the years many of England's great pubs have had equally illustrious landlords (Sir Ian Mckellen - Magneto to his friends - co-owns The Grapes in Limehouse, Guy Ritchie owns the Punch Bowl in Mayfair, and chat-show host extraordinaire Michael Parkinson owns The Royal Oak in Maidenhead) and Warren House Inn is no exception, sitting slap-bang in the middle of the estate of the Duchy of Cornwall. By rights it's Prince Charles's name above the door.
It says something about a pub when the fact that the landlord is heir to the throne is not the most interesting thing about it, and so I'll bring you back to the plume of smoke mentioned at the top. The fire that burns in the hearth of Warren House Inn has been doing so continuously since 1845. It's outlived Dartmoor's tin industry, survived countless freezing winters and warmed the cockles of who knows how many wide-eyed travellers. Warren House Inn really does keep the home fires burning.
Warren House Inn Postbridge, Yelverton, Devon, PL20 6TA
Ye Olde Trip to Jerusalem
One of the many pretenders to the wrinkled crown of Britain's oldest pub is Ye Olde Trip to Jerusalem, which purports (according to the pub sign at least) to date from 1189 AD.
Though the current building is only about three hundred years old, The Trip, as it is known to the Nottinghamites, is built on a series of man-made caves, which date to about the same time as the Norman conquest and link up to the castle on the hill above.
The pub supposedly takes its name from the fact that crusade-bound knights used the watering hole as a stop-off point on their way to Israel (the modern equivalent would be needing a wee before you reach the end of the road). Indeed Richard I himself apparently slept at the inn on one of his very infrequent visits to England, though this obviously can't be verified as he didn't post a review on TripAdvisor. What is beyond doubt however is that over the years some pretty strange and eerie things have occurred at Ye Olde Trip to Jerusalem.
In The Rock Lounge (one of The Trip's three bars) a model galleon hangs from the ceiling gathering dust as the last three people to have cleaned it are said to have died under mysterious circumstances within 12 months of doing so. The galleon is now encased in glass, as the centuries of dust covering it occasionally became dislodged and would fall into an unsuspecting drinker's pint. Other peculiar highlights include an antique chair in the corner of the bar, which is said to improve the fertility and chances of conception of any woman who sits in it. The chair has even been used by local politicians to stress the importance of contraception to bemused teenage residents.
If you like your pubs ancient, and with a healthy serving of haunted spookiness on the side, then stop in to Ye Olde Trip to Jerusalem. Perhaps on your way to the Holy Land? Or at least somewhere else suitably sunny.
Ye Olde Trip to Jerusalem Brewhouse Yard, Castle Rd, Nottingham, NG1 6AD